Pace® offers deep, decades-long experience in air quality testing and analysis – and the fastest turnaround times in the industry.
Pace® Air laboratories have the capabilities to support virtually any application of air, and air quality testing. We also offer air contaminant expertise, including volatile compounds, semi-volatile dioxin, furan, and permanent and/or fixed gases. A representative sample of our air quality testing capabilities include:
Landfill Gas Analysis
Stack and Flue Gas Monitoring
Soil Vapor Intrusion Gas Testing
Indoor Vapor Intrusion Testing

This product guide details all of our air capabilities, methods, and more.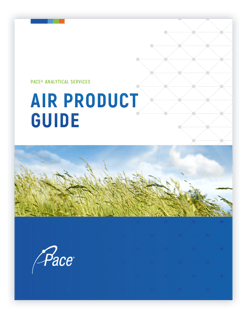 ---
Provided by Pace®
Pace® makes the world a safer, healthier place by providing quality, comprehensive testing and analytical services for environmental concerns. Pace® was one of the first commercial laboratories to analyze for PFAS. Today, the company provides PFAS testing and analysis at multiple laboratory locations and offers PFAST ®, the only fully certified PFAS mobile lab in the industry. Trust the largest, American-owned and nationally certified laboratory network for accurate, fast results. Learn more at Pacelabs.com