With the growth and popularity of ethanol as a clean fuel source, regulatory agencies and communities increasingly scrutinize the plant emissions from these facilities.
Pace® Analytical has a long history of serving the ethanol industry with quality environmental services. Pace® was instrumental in advancing the science of ethanol testing by performing much of the groundwork to establish and identify specific VOCs found in various segments of the process.
Our team's understanding of the numerous regulations' facilities must follow, helps our ethanol production clients achieve and maintain regulatory compliance with federal, state, and local regulations.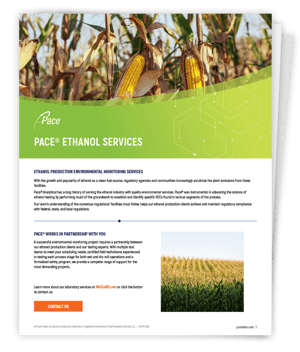 *We're always available to answer project-specific questions