The winter and summer months are optimal times to test for Vapor Intrusion due to both indoor and subsurface conditions, as well as state-mandated testing parameters.

But do you know why?
Download our Q & A to learn:
What is vapor intrusion?
How does soil vapor become contaminated?
What is the goal of vapor intrusion testing?
Why does most vapor intrusion testing happen in the winter and summer?
What are some health concerns with respect to vapor intrusion?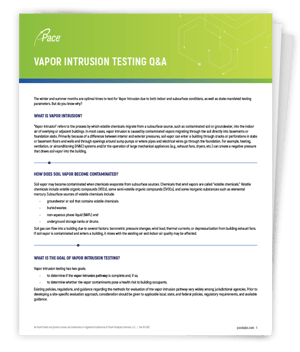 *We're always available to answer project-specific questions